A little bit of this, a little bit of that Gujarati Indian Cookbook
"...precisely replicates my mother's cooking" K Patel, UK
This beautifully designed Gujarati Indian Cookbook covers an extensive range of Gujarati Indian home-cooked recipes with measurements that will help you discover what a little bit of this and a little bit of that truly is.
Created by mother daughter duo Laxmi and Jayshri Ganda from New Zealand, the pair have truly emulated the taste of home.
Awarded the prestigious "Gourmand Best in World Cookbook"
BUY A COPY TODAY
What our customers are saying
Our style of cooking

"I already had a book and brought 2 more as gifts. Younger family members have said this our Gujarati style of cooking."

- Vajiya Patel, Auckland

Reminds me of my mothers and grandmothers cooking

"Great book, very colorful, easy to follow recipes, and informative."

- K Patel, New Zealand

"..precisely replicate my mother's cooking"

"A beautiful book. The recipes precisely replicate my mother's cooking. Thank you"

- Kirty Patel, United Kingdom

Easy to follow recipes

"This cookbook has so many easy to follow recipes having tackled many of the recipes in this book it is not that hard at all." - Dharmesh P, New Zealand

Delicious, traditional Gujarati recipes

"A company that goes the extra mile for their clients. Really looking forward to trying out all these recipes."

- Hinal Bhana, Sth Africa

A English written Gujarati cookbook

"Usually I would call my mum and get her to talk me through a recipe... I've been using this book for years."

- Khushma Master, Australia

Great for passing on knowledge

"The recipes are just like how my Gujarati parents-in-law cooked food for the family.. also purchased the Gujarati/English spice labels." - Ruth Jasmat

A lifesaver

"Thank you Laxmi and Jayshri for a Gujarati Indian cookbook. I got married a month ago and this book has been a lifesaver."

- Shanti Patel, Canada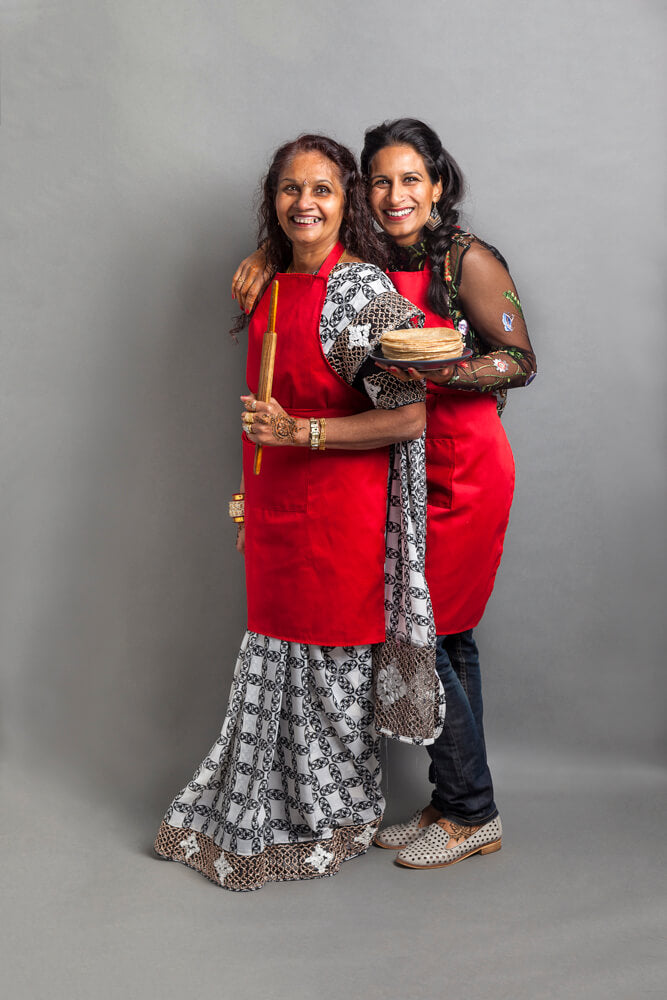 The duo behind the world's best Gujarati cookbook
I loved my mum's food, always the one with a spoon to eat, never the one with the frypan wanting to learn. But the time had come and I wanted to learn some of Mum's recipes, as you'd expect my own experimentations weren't tasting the same, so I called upon mum.
In what is a typical Indian mother's response, mum said "just add a little bit of this and a little bit of that", which resulted in an also typical response from me "but how much is that"?
I soon realised that these beloved family recipes were far too precious not to preserve and slowly got Mum on board to document them for future generations and to share with the wider global Gujarati community and you.
Read Laxmi & Jayshri's full story here
The most popular Gujarati Indian Recipes from our cookbook
GUJARATI KADHI RECIPE

Spicy Yoghurt Gravy A very popular Gujarati dish made from yoghurt and spices. Recipe Here.

INDIAN DONUT BALLS

What is Gulab Jaman

Homemade donuts dipped in a rose (gulab) sugar syrup. Recipe Here

CORIANDER CHUTNEY

Dhania ne Chutney

It is mildly spicy and tangy, an Indian coriander pesto. Recipe Here
A Gujarati Indian cookbook from New Zealand born out of love gets awarded the incredible :: Gourmand Best in the World Cookbook ::
GOURMAND WORLD COOKBOOK AWARD
A Little Bit of This, A Little Bit of That' Gujarati Indian Cookbook  represented New Zealand against the rest of the World and have been awarded the Best Indian Cuisine Book and Best Spices and Herbs Book at the Gourmand World Cookbook Awards.
'The Oscars of Food Awards'.
Documenting Authentic Gujarati Cuisine
When Laxmi first moved to Christchurch and had to cook for her husband and the extended Ganda family, she had no cookbook to follow. Much of what Laxmi knew was by observing her mother-in-law and sisters-in-laws rather than reading recipes. "We would just make the recipe up or watch someone do it, then put it together a few times, back in India we cooked on an open flame – we didn't have electricity or gas." she says, before laughing. "Sometimes it works out, sometimes it doesn't." Read the rest of the story here